New microsite for ordering the SMS and MMS info made for T-Mobile
MicroMedia is the long term partner of T-Mobile mainly in the areas of development of WAP services and the Content aggregation. This time our task was to prepare the microsite with the manual how to order the most popular info channels and also to introduce present interesting offer of T-Mobile.
On the main page we have introduced the offer for SMS and MMS channels and introduced the partners - content providers. The interactive link next to each content provider takes customers to the second level of the site and enables the order via click on subscription link.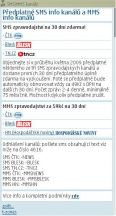 Not Found
The requested URL was not found on this server.