Free download of our new application for Android platform - the Twitter client
If you visit the official distribution site for Android operation system the Android Market you can download our new application for free. The application called TWOID is our reference project and it is a mobile client that enables you to access the popular social network Twitter. Our application offers innovative features that really are worth of trying!
With our application we bet on the simple truth saying that "the beauty is in simplicity". The screen mainly consists of the data, e.g. the status of monitored users and there is no extra graphics. The control of the application is intuitive and comes out of the combination of the context menu and main menu that can be accessed via hard keys of the phone.

a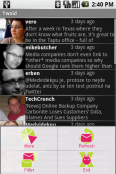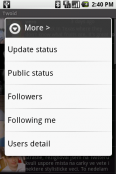 The originality of our application consists of the tagging option. You can easily tag users and than filter them accordingly and view their status. Each of the users can receive one or more tags that define the filtering options. Tagging enables you to watch the statuses of user groups separately, e.g. your friends, Czech users, users according to the industry, etc.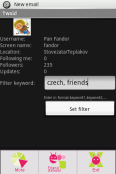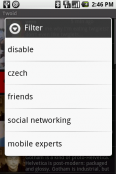 The basic version of our application enables:
to watch public status of users
to watch status of the users you like to monitor
to update your own status
to display the Internet links in the native web browser of the handset
to react to any status
to send direct messages to users
to watch the lists of users that do monitor you
to display detailed information about users
to tag users with your own labels and do the status filtering

The main task of the application is to enrich the market and to provide a reference to our development work. In case of significant popularity MicroMedia is ready to develop this concept further.
The requested URL was not found on this server.